Do you find yourself listening to loud music at home and often miss or keep visitors out for long? Then the tenswall portable wireless doorbell is all you require. This portable wireless doorbell is made in such a way that the sound can be heard in approximately 1000 feet that is around 300 meters.
The volume can be adjusted in 4 levels that are 25 decibels (dB) to 110dB.
This doorbell is portable, and it's a new way to escape using the messy wired doorbells. It has 52 chimes that will save you from the ancient boring ding-dong tune that has been in many homes and will make your home modern and unique.
The 52 chimes are up to date tunes that are suited for various customers' preference and can be programmed as often as you wish. It has a blue flashlight that exempts it from other doorbells.
Guaranteed quality
The tenswall portable wireless doorbell ih4 made in a way that it can withstand harsh weather conditions especially rain and sunlight as it is made from a high-quality waterproof material. Therefore, the doorbell has guaranteed durability that can last for many years in your home.
The doorbell comes with very powerful transmitter batteries and AC receivers that last the doorbell as well as ensure the chimes are loud and play for a long time.
Easy To Install
Installing this doorbell is easy and will not require you to get external assistance all you need is to read the manual provided and use the tools provided to install it within a short time.
The doorbell is easy to carry and being wireless is an added advantage since they do not require wiring, you only need to connect the receiver to an AC source. The buttons can be attached to the wall using an adhesive tape or mounting them on the wall.
Blue Flashlight
The blue flashlight is a unique feature that differentiates the tenswall doorbell, and the light is used as an indicator to the visitors to find out if the doorbell rang.
The blue flashlight shows in both the receiver and the transmitter, thus the receiver will notify you when you have visitors even when you have listened to loud music, or you are wearing earphones or headphones.
Wide Chime Choices
The tenswall doorbell is installed with 52 different chimes; the Chimes are up-to-date thus you have various tunes to choose from, unlike the ancient doorbells.
The various tunes can be programmed and changed as frequent as you want, and the various locations of the buttons can be programmed with different chimes so as to ensure you can tell which doorbell rang.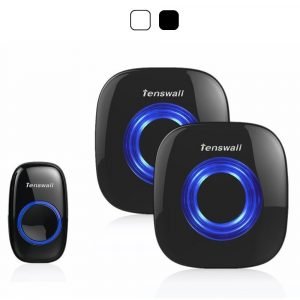 Easy To Operate
The tenswall portable wireless doorbell is easy to operate. You can program and change the tunes on your own once you read the manual provided.
The doorbell comes with a manual with step by step guide and picture instructions that you need to follow to customize the tunes as you wish as well as adjust volume by yourself.
The steps are simple and will not require you to go through the manual again.
Pros
Its volume can be adjusted to very high volume.
It is durable
It has a bright light that is highly visible.
It is wireless and does not require wiring.
Has a wide variety of chimes.
Cons
Frequently Asked Questions
Q: Are there various colors of the doorbell?
A: No, the doorbell comes with only one color that is black.
Q: How many buttons can one install in their home?
A: The doorbell receiver can support as many button transmitters as possible.
Q: Can the doorbell operate when electrical power is off?
A: Yes, the doorbell has powerful batteries that it can use when power is off.
Final Verdict
The tenswall portable wireless doorbell is a doorbell that you can rely on. You can never miss visitors regardless of whether you are upstairs, listening to loud music or have your headphones or earphones on due to its high volume and blue flashlight.
This doorbell offers you a chance to customize the chimes from its wide range of 52 chimes that you have to choose from. You and your visitors will no longer have to put up with the one chime doorbells and will make your home environment modern and unique.