The Homasy doorbell is an exceptional wireless doorbell that simply stands out for itself! It is one of the most sold and bought doorbell.
Homasy Wireless doorbell has outstanding properties, and no single user can complain that it has provided less or unpleasant service to them.
This particular doorbell is cheap/ affordable with a decent and durable design that makes it aesthetically desirable.
It is well equipped with some unique features such as its waterproof transmitter and the fact that it does not use any batteries for the receiver.
Its package has everything required, such as two screws, two receivers, adhesive tape and two anchors, for the setup. Also, it has a total of 52 ringtones from which one can choose. Get more about the features of this doorbell in this review.
Ease Of Operation
Operating a doorbell should not be difficult. This is why the designer of this product ensured that you get an easy to use the product. The design of Homasy wireless doorbell kit makes it easy for the users to have an easy operation especially when it comes to leaving a message. It's compartment located at the bottom of the transmitter, your visitors can leave you a message and you can also leave a message for your visitors.
Installation
Do not expect to experience trouble installing this doorbell. Its installation process is pretty easier as compared to other doorbells. All you require is plugging the receiver into the electrical outlet and then install the transmitter. Again, you do not need any batteries for the main receiver.
Another interesting thing about this unit is that you can customize it with a number of transmitters and receivers to suit your requirements.
Led Flashlight Alert
Not all doorbells come with LED alerts, but this model is exceptional. The transmitter button of the unit features LED light for alerts. When the light turns blue, you get an additional alert and when it is white it indicates a friendly alert.
Range
This doorbell has a quite satisfactory range. The range of this doorbell is up to 1000 feet in any open space. This is an indication that you will never miss your visitors at any given time. This range makes the device perfect for use in nursing residents and other related places.
Adjustable Volume
You will also enjoy the 52 chime options that are provided which also include 16 chords. Again, you can adjust the volume to 4 levels by adjusting the button to the ideal level you want.
Waterproof Transmitter
The transmitter of the unit is designed with a water resistant material so water cannot damage it. The bottom of the transmitter features a compartment that gives your visitors the opportunity to leave you messages.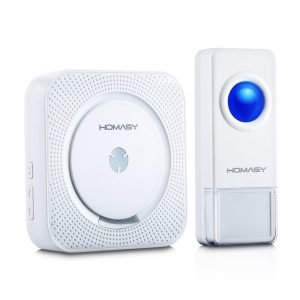 Pros
It is affordable.
Durable and modern designed.
Ease of installation and use.
Provided with a flashlight.
It has two receivers.
It has a waterproof transmitter, IP55.
52 ringtones and a range of up to 1000 feet.
Cons
It uses no batteries and thus the receiver must be plugged in.
Some customers may dislike the design.
Frequently Asked Questions
Q: Does the doorbell work even through a masonry wall?
A: Yes, the doorbell works perfectly through most materials, even through a masonry wall.
Q: What is the voltage range for the receiver?
A: It has a voltage of 110- 220 V.
Q: Can two push buttons be used, one for the rear and one for the front door?
A: Yes, provided the push button is wireless.
Final Verdict
Homasy 1000ft wireless doorbell plays a significant role in any home. For those people who want to have a quality wireless doorbell, the Homasy Wireless Doorbell is an admirable product to purchase.
This is a top quality product that has a good-looking appearance and it also comes at a very pocket-friendly price. The unit is also designed with durable materials to enhance its lifespan.
The features of this unit are unique and this makes it easy to use. Get this exceptional wireless doorbell and you will love using it. It is a product that beats many units on the market.