Do you need a doorbell that has a unique operating range, that has an affordable price and that can function in the outdoor environment? If your answer is yes, then SADO tech modern G wireless doorbell might be the perfect wireless model for your home or office.
This doorbell is designed to operate mostly in large buildings. This doorbell does not require batteries, unlike others for the main receiver or the transmitter.
You just plug into the power, and it works excellently in your house, and it consumes less power that is twelve volts less, so you don't have to worry about power consumption.
Furthermore, it is certified, and it is appropriate for use it doesn't cause any damages into the environments. To help you make informed decision let's take a detailed look at some of the features this doorbell offers
Related Product
https://doorbellgears.com/sado-tech-model-c-wireless-doorbell/
https://doorbellgears.com/sadotech-model-cxr-wireless-doorbell
Easy Installation
This doorbell is perfect for homes and businesses that are on a budget because the modern G does not require any a licensed electrician or handyman to install.
In fact, the only tool required to mount this doorbell It's a screwdriver that is a standard which is used in screws, and it is included in the packaging.
The manufacturers offer a detailed installation manual process which includes step by step instructions and descriptive images hence making it easier to install the doorbell
Operating Range
This doorbell comes with a 500 feet operating range this modern G doorbell is perfect for homes with a significant amount of space.
The receiver and the push button of this doorbell can communicate through steel doors and also bricks wall standard dry walls and other structures separating the two devices, ensuring that you are reliable doorbell no matter what type of structure it is being used.
The system can be customized using the fifty different ringing tone and four volume levels programmed into technology according to the personal preferences hence you chose according to your mood, and finally the doorbell has waterproof capabilities hence can withstand any weather condition and it is also perfect for outdoor also.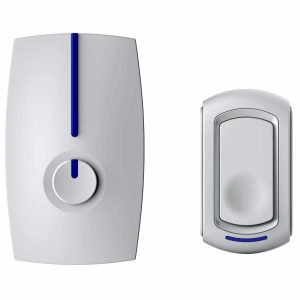 Design
This doorbell comes with two different colors that are white and also ocean blue. The receiver is a sleek rectangular shape with rounded front face its simple white casing is accented by a single blue line running vertically down the center and illuminates when a push is triggered.
The design for the push button is similar to the receiver with the exception of the large button running vertically through the front casing like the receiver it is white, and it is accented by a single blue line which is located below the push button.
>>> Click Here To See Specifications, Reviews & Rating for Related Product <<<
Pros
It has easy installation
It has waterproof capabilities
It is affordable that is the price it is cheap
Has adjustable volume
A wide variety of ringtones
The design is simple and attractive.
Cons
It works best in places with a large amount of space
Frequently Asked Questions
Q: Does it come with a warranty?
A: Yes it comes with a warranty of one year from the manufacture, and also there are free days for tryouts if you don't like the product you are refunded.
Q: Does the doorbell have light when it is pressed?
A: Yes there is light that it is triggered by the press of the button
Final Verdict
I know you are planning to purchase a doorbell and you should or may consider purchasing the SADO tech modern G wireless doorbell for home or office space.
This doorbell has an operating range of five hundred feet and has multiple volume levels that are adjustable hence it is very audible because it is loud. In addition to that, this doorbell can successfully transmit information through different barriers meaning it will be truly reliable doorbell system.
This doorbell is affordable and cheap that means that it will fit even into the most limited budgets and the total customer's satisfaction is guaranteed including the purchase which means you will have the freedom to receive a full refund in exchange if you are unhappy with the product.
Overall, we highly recommend the SADO tech modern G wireless doorbell for its affordability, easy installation, and it's amazing and useful features.